Octavian Basics
Music Theory Essentials
Current Version: 1.0.0 for iPad


Only US 99¢!
Version 1.0.0 Now Available! Just 99¢!
Listen, learn, and practice your music theory essentials!
Discover the Major and minor scales, their chords, and the circle of fifths. Explore intervals, solfège, scale modes, and more – in five languages. All presented on a single iPad screen with useful and easily accessible options for display and playback. Ideal as an instructional tool for schools, classes, tutors, and choirs. Educational Discounts Available!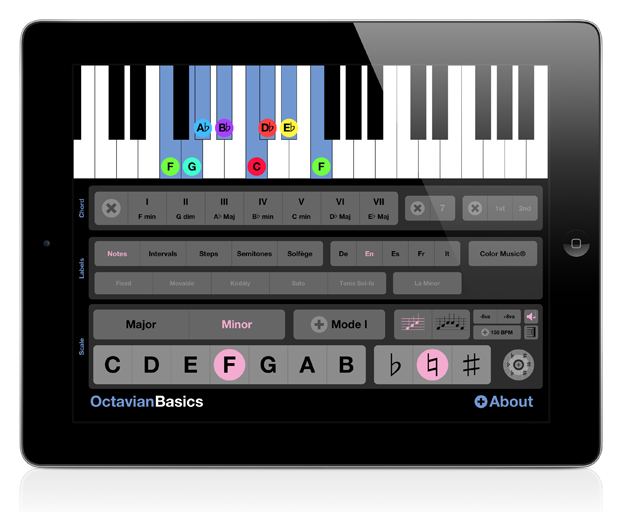 Features include:
Piano playback of scales and chords
Major and minor scales on any root note
Chords for each scale degree, with added sevenths and inversions
Circle of fifths navigator
Scale modes (Ionian, Dorian, Phrygian, etc.)
Note label options include intervals, steps, semitones, and solfège
Solfège systems: Fixed, Movable, Kodály, Sato, and Tonic Sol-fa
Playback settings include transpose, repeat, and tempo
Compatible with the Color Music® system
Video
COMING SOON!