Version 3.0.0 Now Available!
Octavian, Keyboard Calculator, is the essential musical reference tool for any musician, student, composer, songwriter, pianist, keyboard player, or hobbyist. Whether your specialty is classical, jazz, blues, or rock, Octavian provides instant access to over 500 scales and 100 chords, with any root note and in any mode or inversion.
Educational Discounts Available!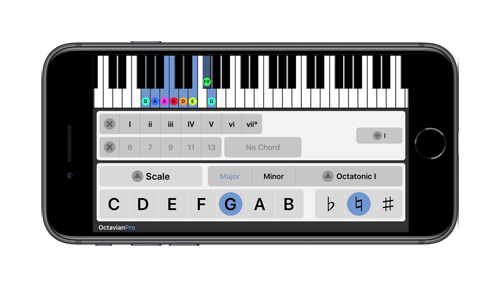 With Octavian, you can:
Quickly find scales and chords and transpose them to any root note
Compose chord progressions
Listen to scales, chords, and progressions with high quality piano sounds
Identify scales and chords by picking notes
View any mode of any scale
Build chords on any scale degree
View chords in root position and first, second, and third inversions
Use Scale Explore to view all scales that contain the notes of the current chord
Interactively traverse the Circle of Fifths
View scales/chords as notes (C E G), intervals from the root (0 4 7), or several other ways
What's New in 3.0.0?
iOS 9+ compatibility, 64-bit software
New instrument sounds (Piano, Organ, Strings, &c)
Bug fixes
...and more
Bitnotic aims to make Octavian THE authoritative musical reference. We welcome any additional scales/chords, corrections, and suggestions. Send them to info@bitnotic.com.
Special thanks to Dustin McIntyre for suggesting the name "Octavian."
Video
If you cannot see the video, click here to go directly to YouTube