Music
Bitnotic Music is an independent micro-label and music publisher (ASCAP). We use CDBaby for distribution. CDBaby sells physical CDs and makes albums and tracks available digitally on iTunes, Amazon, Napster, and other outlets.
The VX-323
Straight from the factory floor comes the debut album from The VX-323, speech synthesis robot. Chansons' nine tracks of sophisticated pop electronica feature synthetic vocals for all verses and choruses. The sound is both familiar and unlike anything you've ever heard before.
Please visit the artist's Web Site (http://www.thevx-323.com) for song previews, free tracks, ordering options, complete bio, and press information.
RadioIndy
Funny, clever, thought-provoking, and musically satisfying as a collection of Euro-infused synth-pop songs, The VX-323's debut CD, "Chansons," must be heard to be believed.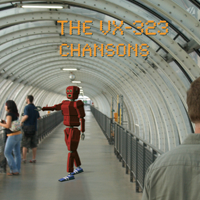 Debut Album, Chansons, released March 27, 2009
Behind The Hype
To sum it up, this is more than just an album; it's an experience… one that most people are too afraid to make in this day and age.
Scopitone Saturday
...a ROBOT that makes MUSIC. Its name (as robots tend to eschew gendered identities) is the VX-323 and it is AMAZING, not only because it is a robot that makes music but because the music is also very good.
Suite101
VX-323's debut album is a stark affair with moments of both brilliance and banality.